A BBL/Booty By Lakshman is a new and exciting plastic surgery procedure that carves fat away from your waist, love handles, muffin top, abdomen, and back with standard liposuction and then purifies and uses this same fat to augment and create a beautiful, proportional, and shapely butt!!
In other words, fat in unwanted areas is transferred to areas where you DO want it, namely, your butt! The fat is your own tissue, not an implant or foreign body. This is a safe, effective, and long lasting new alternative to the old, hard, silicone butt implants that are prone to infection and deformity then requiring their removal. Natural fat also contains high concentrations of stem cells. These cells have a restorative and rejuvenating effect on the appearance of skin and the formation of new collagen. The overall result is a shapelier and more youthful looking derrière(butt)!
Call today to book your new Booty By Lakshman (BBL)!!!
The Brazilian butt lift augmentation surgery is fast becoming the preferred method to achieve the body contouring look of your derrière dreams. Previously, your only option for a nice butt was to exercise, wear butt-enhancement shapewear or just ignore the area altogether. Fortunately, the advent of modern cosmetic surgery procedures has given Los Angeles and Pasadena area patients a new option.
The Brazilian Butt Lift is a cosmetic butt augmentation procedure that enhances the shapeliness of the gluteal area. Patients considering this surgical procedure usually desire a sexier, curvier buttock for a sensual, feminine profile or to achieve a Nicki Minaj or Kim Kardashian bubble butts look they desire.
How A Brazilian Butt Lift Works
Of all the ways to cosmetically enhance the buttocks, Brazilian butt lifts are the most natural. This surgery works because Dr. Lakshman utilizes the patient's body fat by transferring it from places, like the abdomen, back, and thighs, to the buttocks. This procedure provides the body sculpting and a sensual shape instead of using artificial implants that only feel real.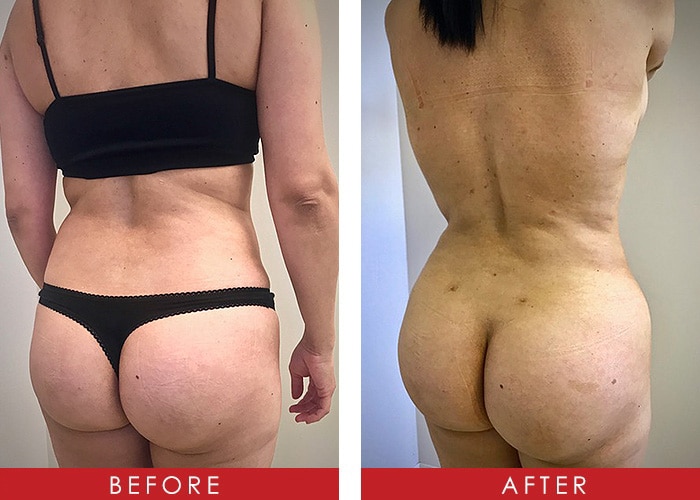 Best Brazilian Butt Lift Results
Patients who've undergone the Brazilian butt lift procedure say the results are amazing, and they can see the changes immediately. It's also common for the results to fully blossom over the first year because some of the fat used for your butt lift gets reabsorbed as your body recovers from the surgery.
Brazilian Butt Lifts provide enduring results. While aging and gravity may affect your size and shape, your results are typically long lasting and can be enhanced through healthy living. A steady body weight is important as too much extra weight can cause fat to grow and expand, whereas a dramatic weight loss may reduce the results from the surgery.
Who Are The Best Brazilian Butt Lift Candidates?
The best candidates for the procedure are men and women who are in good health, those whose do not smoke and whose buttocks are flat, shapeless or misshapen after drastic weight loss. Also, the candidate should have some body fat to spare. If you any or all of these characteristics, then chances are you can successfully undergo the procedure and get the well-shaped behind you've always wanted.
Brazilian Butt Lift: Risks To Consider
With any surgical procedure, there are associated risks. Risks for this procedure include soreness, pain, swelling, excess bleeding, blood clots, a buildup of fluid and infections. You may be exposed to the risk of allergic reactions, although the chances of these are typically small. For a full list of risks, speak with Dr. Lakshman. He will be able to give you a more accurate assessment of your personal risks by reviewing your particular health profile during your consultation.
Brazilian Butt Lift: Post-procedure Recovery
A great recovery plan will solidify the results you are seeking. To maintain your Brazilian butt lift, you will have to adhere to a few post-operative rules. For the first three weeks, you'll have to wear a post-op compression garment 24 hours a day, and you cannot sit directly on your butt. These procedures allow the fat grafting in your buttocks to take while also controlling the swelling, which can last up to 6 weeks. Expect to be recovery mode for a minimum of four weeks, at which point you should be able to resume all normal activities.
We invite you to schedule a consultation with Dr. Lakshman by calling our office at .
We encourage you to explore other fantastic procedures for your abdomen, the Tummy Tuck or Liposuction Surgery.
Or you can return to the Cosmetic page to review other excellent cosmetic surgery procedures.